BEAUTY, DURABILITY, LOW MAINTENANCE AND VALUE
Whether you're planning a neighborhood, designing or building a single home or an entire development, or remodeling an existing home, these are attributes you'll certainly want to offer your customers. And you can — by including vinyl siding as the exterior cladding of choice. You may be surprised what you can achieve using vinyl and other polymeric siding, architectural trim and accessories. Vinyl siding helps create homes and neighborhoods with distinctive style and unique character that appeal to homebuyers and homeowners alike. And helps build communities of undeniable attraction and lasting value.
Certified Vinyl Siding Installer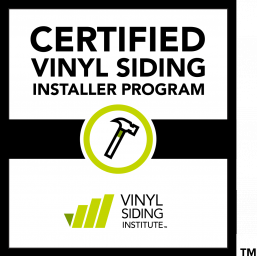 Bo Lacey only employs tradesmen certified through the Vinyl Siding Institute, which sets us apart from the competition. When you have siding installed by us, know our team is trained to do the best job possible. We are always striving for top quality installation of top quality products while using the latest technology — this gives our customers a peace of mind that they are getting one of the best.
Ohio Region Siding Cost vs. Value Report
Cost Recoup = 69.3% for Vinyl Siding and Trim
Get Your FREE, No Obligation Estimate
COLOR SELECTION
The range of available vinyl siding colors is fairly broad and different manufacturers will have their own selections. Your choices aren't infinite like you'd get with a paintable option but you're not just limited to a palette of several colors.
STYLES AND PROFILES
Vinyl house siding is readily available in virtually any profile (style) of siding that's available with wood. Whether you like the look of cedar shake, wide or narrow clapboard or vertical siding you can find it in vinyl siding.
LOW MAINTENANCE
Vinyl house siding is low-maintenance. There's no need to scrape and paint nor any need to caulk joints. A wash with a hose is the most maintenance you'll probably encounter with vinyl.
DURABILITY
It's a durable product, particularly if it's on the thicker end of the product spectrum and even more so if it has an insulation backing. Vinyl won't rot like wood and wood-based products can. It is non-porous and isn't threatened by pests like insects or woodpeckers.
DENT RESISTANT
Vinyl's flexible nature allows it to absorb impact better than more malleable materials like metal which can dent if struck hard enough. Given reasonable care vinyl siding can last for years.
ECONOMICAL
Vinyl can be an economical siding option particularly compared to other choices like brick, stone or wood. If you need cost data to help make choices, consider an estimate from Bo Lacey Construction.